Authentic & Original Vietnam Paintings & Artworks by Talented Vietnamese Artists | Nguyen Art Gallery
Nguyen Art Gallery has been established for original and quality Vietnamese paintings since 2006. We are recognized as one of the Top 10 Best Fine Art Galleries in Hanoi, Vietnam. The name Nguyen Art means "Original Art". The Gallery's objective is to promote quality arts from Vietnamese artists. Almost all artworks in our Gallery are oil on canvas paintings and lacquer paintings (son mai). The Gallery focuses on emerging Vietnamese artists. Their artworks express and communicate the imaginative aspects of their culture and reflect concerns that range broadly from the spiritual and aesthetic to the social and political.
Nguyen Art Gallery carries paintings using many traditional Vietnamese materials; these include lacquer painting (son mai paintings), charcoal paintings, and watercolor paintings on "Do" paper; as well as painting using such popular materials such as oil on canvas, acrylic on canvas.
These contemporary artworks are showcased in Nguyen Art Gallery which welcomes local access and also allows visitors from all over the world to cross the globe virtually and increase their understanding of quality art from Vietnam. The gallery love to show you many artworks from young talented and famous Vietnamese artists. Since it first opened in 2006, the Gallery has always looked for and found new faces in Vietnamese art and regularly supports them. The Gallery also holds regular exhibitions for young artists as well as the already well-known ones at its venue.
The artworks may be purchased directly from the Gallery in Hanoi or they may be viewed and ordered online on the website and we will ship the artwork worldwide. We do hope you enjoy our collection of Vietnamese artworks and paintings.
Vietnamese Paintings by Subjects
Vietnamese Paintings by Materials
Nguyen Art Gallery
Gallery of Original Vietnamese Artworks & Paintings
10 000+
We've shipped thousands of museum-quality products to art lovers all over the world. Each product is hand-crafted by our team of expert artists & craftsmen, delivered to your doorstep with a 30-day money-back guarantee.
100+
Hundreds of independent artists from all over regions of Vietnam choose Nguyen Art Gallery to exhibit their wall art, home decor, apparel, and much more. Every order pays an artist! Support the emerging artists of Vietnam to create more and more!
2006
We launched our business way back in 2006 and have spent the past decade-and-a-half building the Vietnam's largest online art marketplace.We're still independently owned by our Founder / CEO - Mr. Henry Le to this day!
10+
Nguyen Art gallery is home to dozens of materials. Oil on Canvas, Colored Pencil, Natural Wood, Acrylic on Canvas, Lacquer, Mix Media on Canvas, Print on Canvas, Pastel, Watercolor ...
6+
We have 6+ international shipping partners running 24/7 and do not stop finding reliable brands to ensure you get the minimum shipping cost and delivery time. FedEx Express, DHL, TNT, UPS and many more.
ONE
We're an independent company supporting hundreds of thousands of independent artists. We're independent... together.Thank you for browsing best Vietnam Marketplace and supporting the visual arts!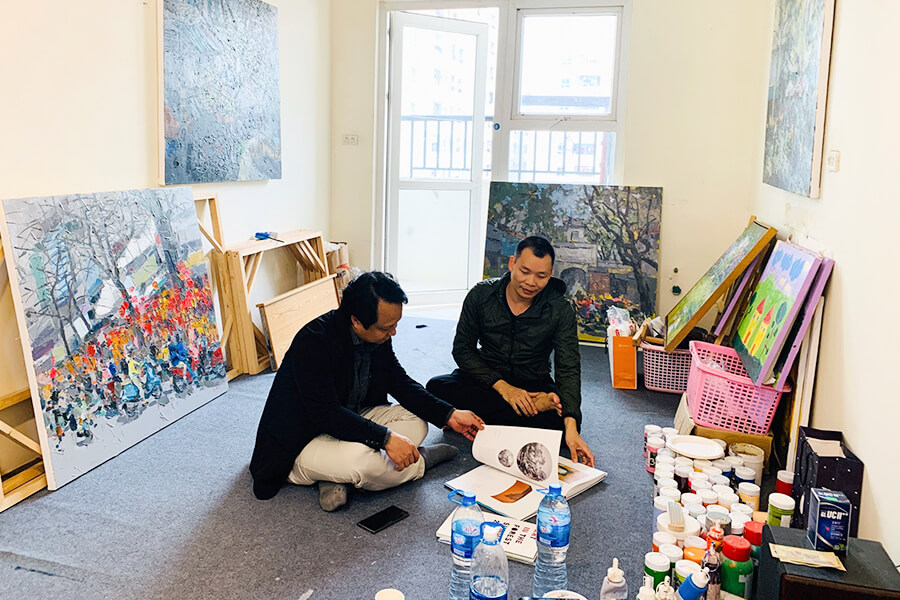 100% Handcrafted Artworks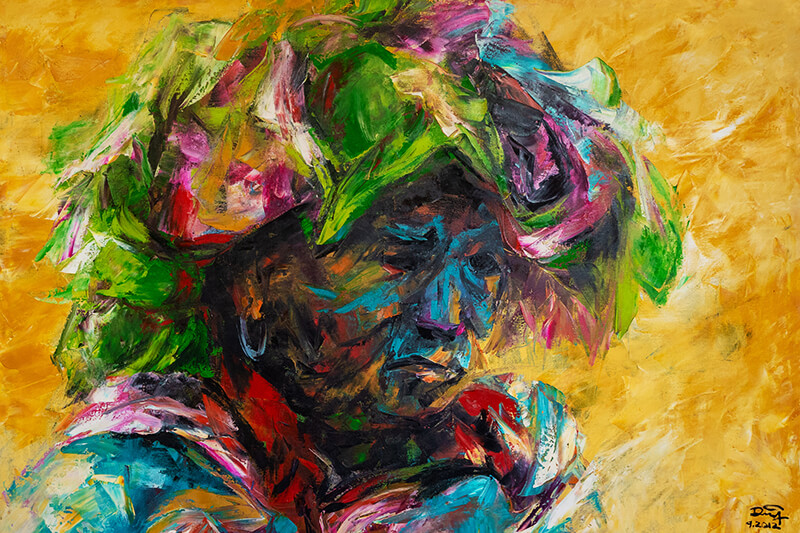 Authentic & Original Artworks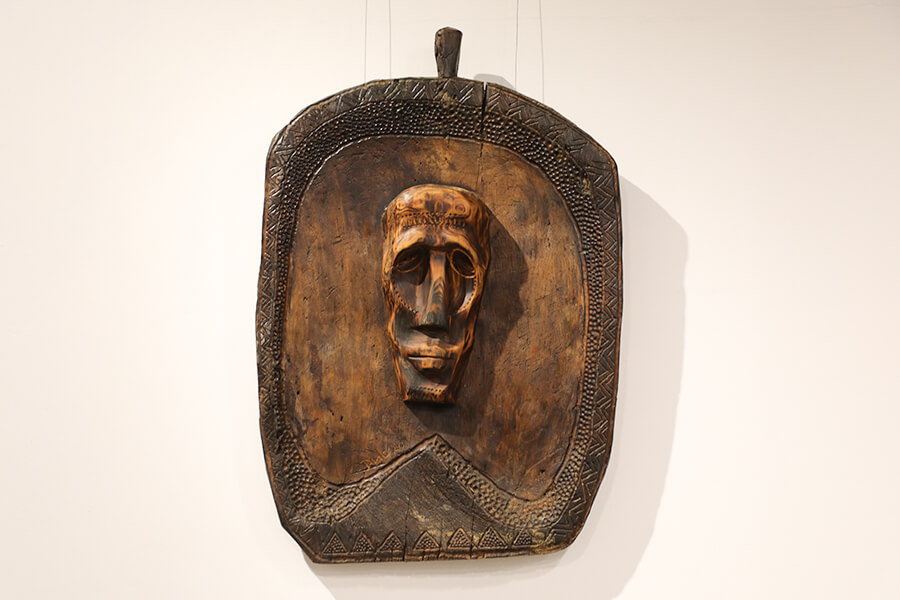 Adorable Price
One of the Best Art Galleries in Vietnam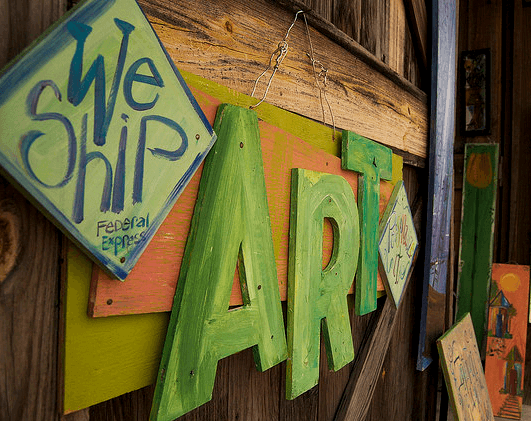 Safe Packaging & International Delivery
When you buy artworks from Nguyen Art Gallery, your painting is packaged and delivered by ones with the knowledge of how to best package each artwork and the utmost care to ensure your artwork arrives safely. No matter where you are in the world. We take care of logistical processes, administration at customs in order to offer you an experience where you can concentrate completely on the art.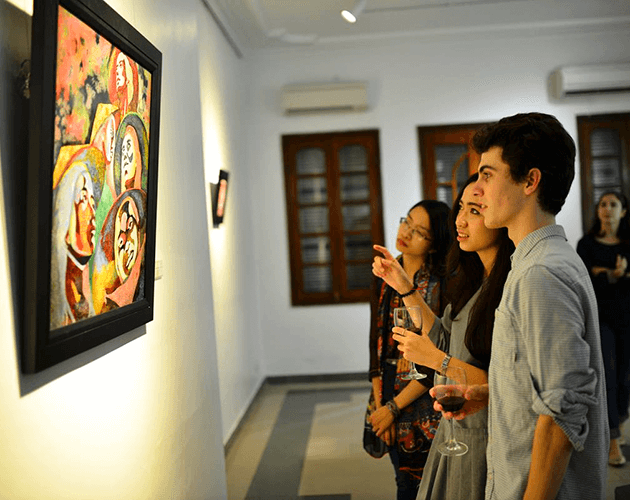 The Home to Art Exhibitions
It is our honor to be chosen as the venue for art exhibitions of famous emerging Vietnamese artists. The appealing space and art enthusiasts behind define our gallery's differentiators. Plan a visit to Nguyen Art Gallery to gain your own unique experiences.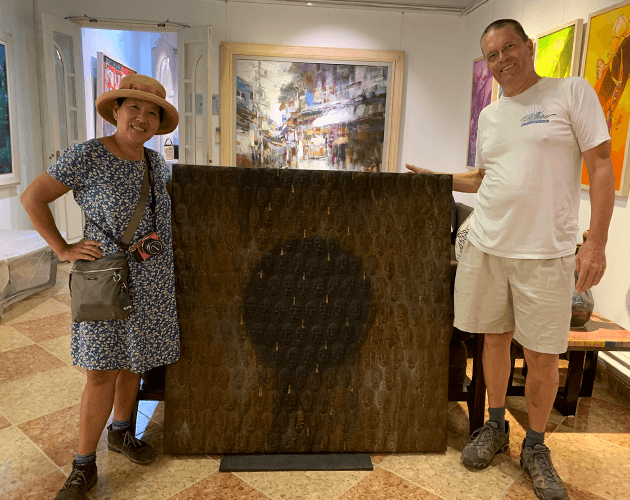 Happy Customers
All of our customers are happy with our artworks & services. Make your space impressive & soulful with paintings & artworks from Nguyen Art Gallery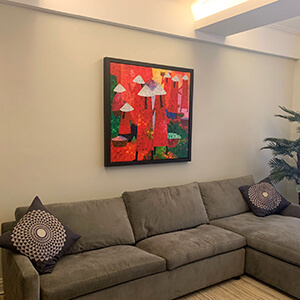 "Colors and Vibrancy!"
Hi Ha,
our painting came back today. We are very happy with it. It brings a lot of colors and vibrancy to the room. Hope you are well.
All the best, Robbie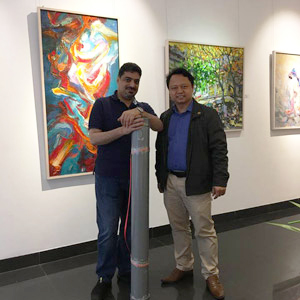 "Great Way to Spend an Afternoon!!"

Dear Mr. Henry Le,
Nguyen Art gallery really deserves to be in the top 5 Galleries in Hanoi. We have visited a lot of galleries in Hanoi, but Nguyen Art Gallery is the last one. It was very beautiful. The artworks here are very unique, and we really loved it. Especially, we love "Portrait number 29"  by Artist Mai Huy Dung and the story behind as well as the delicacy depicted in the artwork.
Once again, I want to give my appreciation to all of you!
Bests,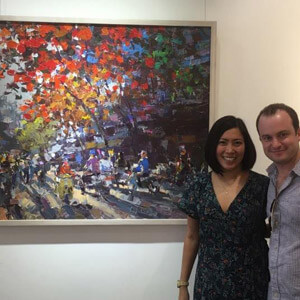 Very Nice Art Gallery
Dear Ms. Sienna,
Sorry for my late reply. We have received the painting that we have seen on the website. It was really beautiful!
Firstly, we quite worried about the shipping as well as the painting's quality. Fortunately, it was fine. The painting was packed carefully and delivered on time. We also received both the sign of the Artist and the owner of the gallery.
We hung it in the middle of the living room. It's so great and makes our living room cozier. Thuy, my wife said that the painting has brought the soul of Hanoi to USA :))
Once again thank Nguyen Art Gallery for this wonderful picture!
We will come back and buy a son mai painting in near future!
Bests,
"Thanks! Nice Gift Again"
Dear Mr. Henry Le,
Very handy those wine holders. Imagine having couple a glasses infront the paintings at the fire place. What a kind of the feelings! Thank you, Henry and who ever pack that art painting box. Pack so nice and carefully!
Many thanks,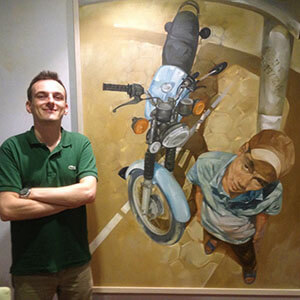 "Wonderful Gallery!"
Dear Mr. Henry Le,
Thank you for your painting which I received in the last week. Actually, it's more beautiful than what I see on the online marketplace. I really like the color scheme and the brush strokes of the artist. Actually, I was a bit nervous when buying pictures online but with Nguyen Art, I absolutely believe, the quality of the paintings, the artist's signature, shipping, everything is great. Please send my thanks to Luong Trung artist for the great artwork. Fortunately, I will come to Vietnam in the next year. If I have time, of course I will visit your gallery. Hope to see you soon!
Many thanks,
Latest from our Art Blogs