Oil Paintings – Authentic & Original Oil Paintings for Your Living-space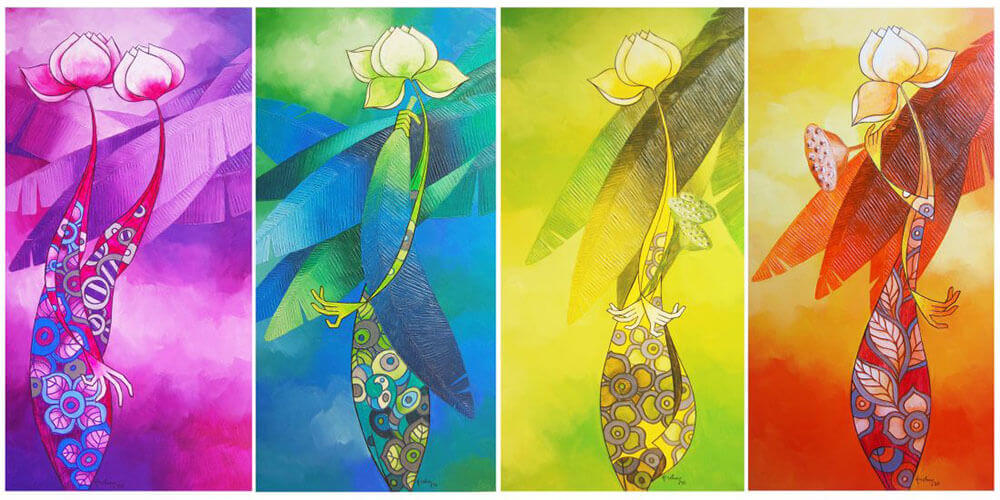 Oil Paintings - a Famous Kind of Art in Vietnam
Oil paintings is one of the most familiar kinds of painting in Vietnam fine-art. With the outstanding properties of color fastness & aesthetics, oil paintings, currently, is loved by Art-lovers world-wide.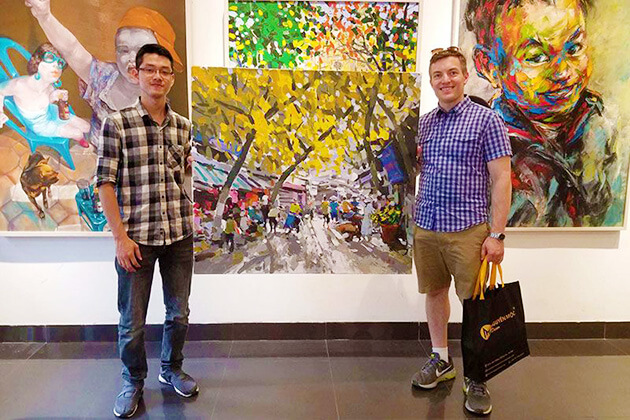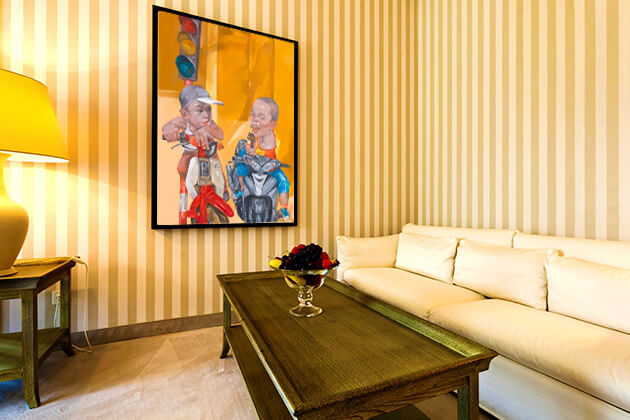 Decorating Your Living-space With Our Collection of Oil Paintings 
Coming to Nguyen Art Gallery, you will have an opportunity to bump into a huge collection of oil paintings. Our oil paintings, from themes of landscape, countryside, local streets to still life..., all of them are hand-painted on canvas, offering you a unique Vietnamese oil paintings that suits any of your living-spaces.
All artworks in Nguyen Art Gallery are original Vietnam paintings which pass through the strict testing process of materials, topics, ideas of artists following with certifications of original painting with signature of authors. Hence, you can take it easy once ordering our original & high-quality paintings.
If you are seeking an oil painting, just select one among our collection or make a hotline-call at +84913342887, email us via: [email protected] to discuss about the subject you would love and our experts will consult you for selecting the best one that suit you most. 
Dau Quang Toan
Size: 126cm*126cm | 50 inches*50 inches
Material: Oil on Canvas
---
Perhaps never has art becomes so intimate and familiar with human life as it now. As well as music, the art of drawing is creeping into every corner, appearing in every house. The easiest painting to catch in everyday life is oil painting.
What is Oil Paintings?
The name "oil painting" is derived from the raw material from the oil of plants that make up the color. By blending the oils together with the different ingredients, the colors of a picture are created. The distinctive feature of oil paintings is that it can be painted on any material such as walls, fabrics, wood, paper, and plastic ... The oil paintings are very suitable for hanging decorations in the home or decorating the equipment.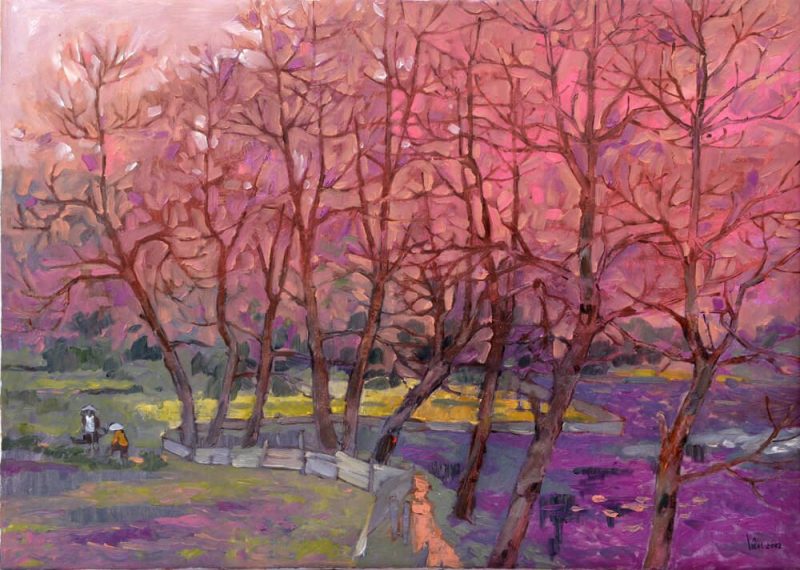 The Evolution of Vietnamese Oil Painting
Appeared in Vietnam in 1925 when the French open the Fine Arts College of Indochina,
Vietnamese painting
in general and oil painting, in particular, have developed constantly and quickly reached new heights as the present. Many Vietnamese artists have been successful in this field: To Ngoc Van, Tran Van Can, Nguyen Tu Nghiem, Bui Xuan Phai,… To Ngoc Van (1906 – 1954) was considered as the master of this material by many art historians. Oil helps him capture the beautiful moment of nature. He used the highest level color to express the mysterious beauty of Ba Vi Mountain and Da River. In a short period of time, he drew many oil paintings of Halong Bay, Huong Pagoda, the monks in Phnom Penh, and farmer plowing scene. Some of his astounding pieces of art are A girl by Lilies, Girl with Lotus Flower, Noon, Under the Sunshine. Other oil painters such as Tran Van Can, Bui Xuan Phai, Le Pho, Mai Trung Thu, Le Thi Luu,…also created many works of great artistic value. The most popular lines of Vietnamese oil paintings today Nowadays, the public can easily classify kinds of oil painting used for decoration.
Flower Oil Painting
For a long time, the beauty of nature has been the eternal inspiration of oil painters and flowers have always been in favor. Each species brings a different meaning: purity, luxury, lovely, nobility, sacred… Today, flower oil painting is the great choice of the connoisseur to decorate their home. Not only do they satisfy the aesthetic but they also bring good luck to the owner.
Portrait Oil Painting
Besides flower oil painting, a portrait oil painting also enjoys popularity among the public. It painting has appeared a long time ago. They were displayed in many aristocratic and well-off families. In this line of painting, the viewers can feel the heart of the artist shown on the image, facial expressions, or emotions of the characters. Each artist has their own way to express his art individually. For example, Mai Huy Dung uses portraits to depict the austerity on the faces of ethnic people. On the other hand, Dang Vu Ha artist mainly portrays the man and express genuinely their attitude toward life. Sometimes "not listening, not looking, not saying" is a good way to avoid the trouble around.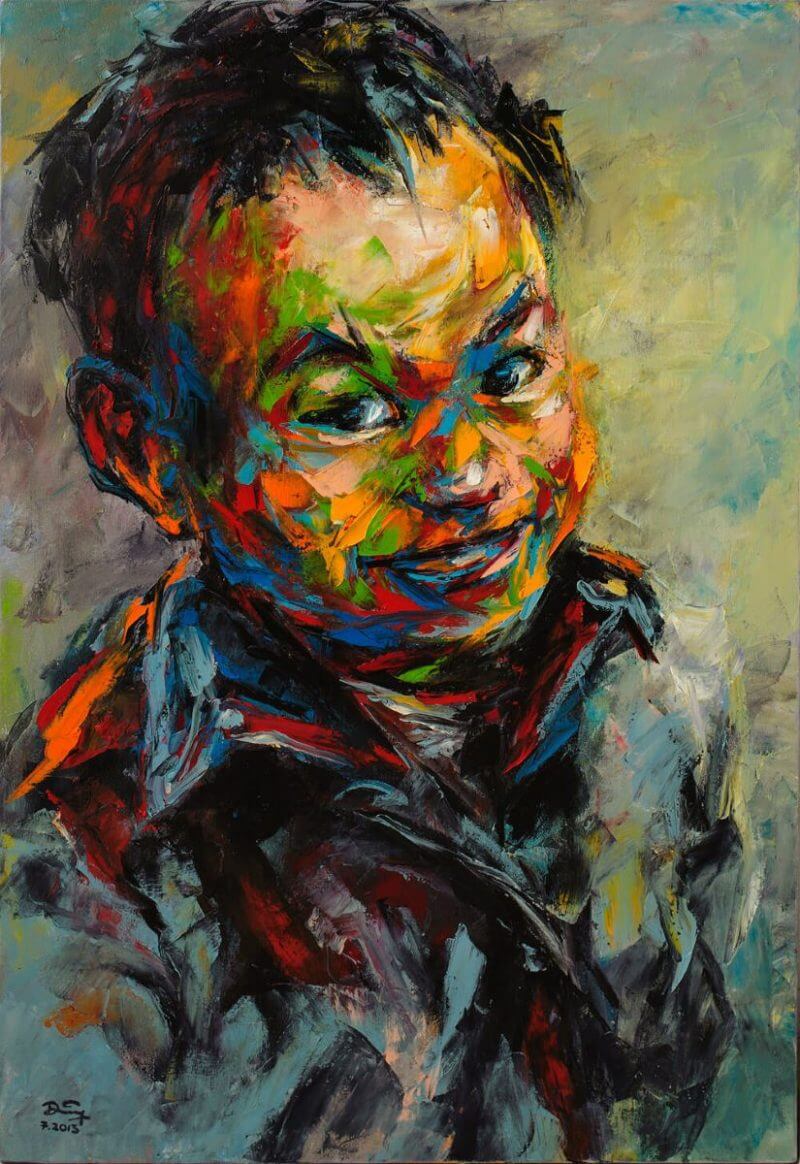 Landscape Oil Painting
This painting is used to depict the beauty of nature: stretching rice fields, sun-drenched beaches, lush forests, or crowded streets. It helps people more respect and cherishes their country. It also brings a feeling of tenderness and intimacy. When seeing landscape oil paintings, people always have a sense of peace and happiness.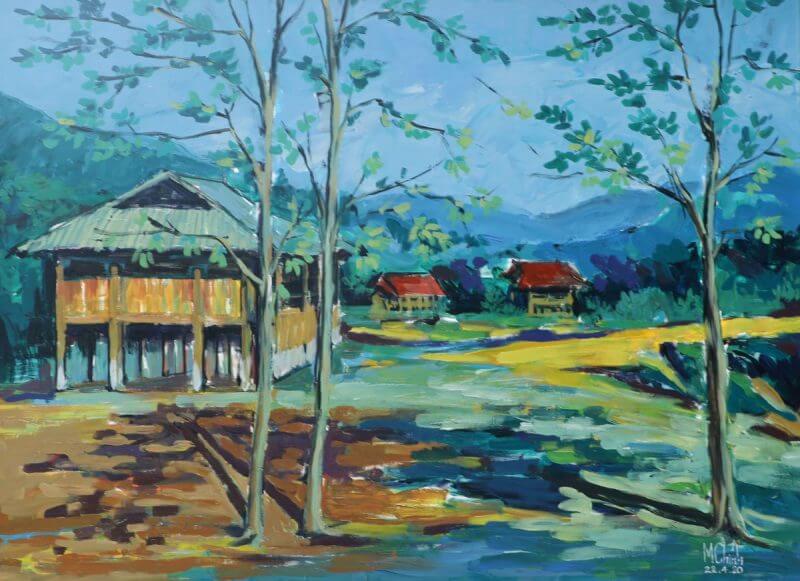 Not just a work of art or an ornament, each oil painting also contains the philosophy or poetic things in our daily life. Things seemed very small and simple to become meaningful and charming through the brushstroke of talented artists. Therefore, oil paintings have always confirmed their place in the field of paintings.